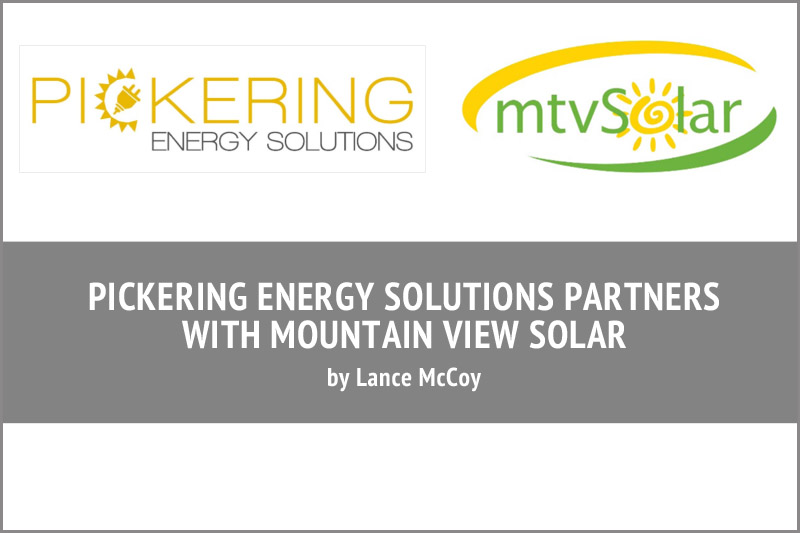 Solar Energy Partnership Announced Parkersburg, WV, March 29, 2016
Pickering Energy Solutions (Parkersburg, WV) is pleased to announce a partnership with Mountain View Solar (Berkeley Springs, WV) to provide quality residential solar installations in the Mid-Ohio Valley region. Our companies share both a passion and an understanding of the critical need for renewable energy investment in the Mountain State and surrounding region. Both companies evolved from the construction and building trades to now lead in the energy space. Their combined mission is to both educate about renewable energy and to elevate the forward looking concepts of sustainability, energy efficiency and environmental stewardship. Importantly, both companies are not only passionate advocates of renewable energy throughout the state, but also its job-creating potential.
For you, the consumer, this partnership ensures the highest quality design and installation of American made solar system components, with superior local service. The opportunity to combine the resources and workforce of both companies will allow us to leverage increased economic value to individual rooftop solar electric systems.
An additional advantage of the partnership is the future development of the concept of a solar co-op or 'group buy' plan in the Mid-Ohio Valley. Mountain View Solar has experience in this model in Morgantown, WV. The solar co-ops leverage the group's buying power to save money on the purchase and installation of solar panels on co-op members' homes.  Based on the same principle as buying in bulk, co-op members purchase solar systems together to save money and share knowledge.