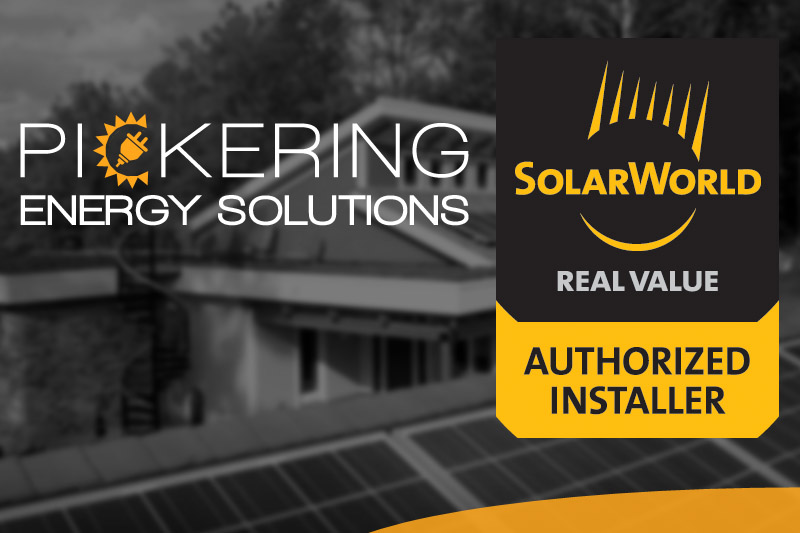 Press Release
December 18, 2014 
SolarWorld (Hillsboro, OR), the largest crystalline silicon solar manufacturer for nearly 40 years, is expanding its network of installers and recently welcomed Pickering Energy Solutions (PES), as an Authorized Installer. "After reviewing our installation history and the variety and quality of work in our portfolio, SolarWorld believed we were a good fit", stated Lance McCoy, Communications Director for PES. SolarWorld performed an installation audit and required excellent customer service and business practices before giving PES their mark of approval. We are proud to have passed those rigorous standards.
The more sunlight solar panels capture, the more sunlight they convert into clean, efficient energy. SolarWorld's proprietary technologies, together with expertly designed solar panel layouts, position the company as the industry leader in power production and innovation. Recent SolarWorld advances range from the company's Sunmodule XL – a high-power 72-cell mono-crystalline solar panel – to innovations in 60-cell panels, mounting systems and inverters. SolarWorld solar panels and systems are also among the first to meet stricter new fire-safety requirements. The expanded product portfolio and certifications highlight SolarWorld's resolve to meet the rising diversity and evolving needs of customers in North America.
Pickering Energy Solutions founder Chip Pickering is excited to work with SolarWorld. He likes the idea of having a steady and secure access to solar modules for both residential and commercial customers. He is also quick to point out that since 1975 SolarWorld products have been made in America, by Americans and for Americans. In addition, Pickering Energy has used Enphase Energy microinverters exclusively on all of its installs. So, when SolarWorld recently announced a global partnership agreement with Enphase Energy this company made even more sense for Pickering Energy.
The company was established in 2012 to install, own and maintain solar electric power systems within the Mid-Ohio Valley. In addition, PES brings individuals and organizations that would like to incorporate renewable energy into their lives together with investors interested in renewable energy technologies. We are able to provide turn-key installations, handling all the details. The company can provide solar electric site assessments, system design, installation and system monitoring. We now have more than 145 kW of installed photovoltaic capacity producing enough energy to power twenty homes for a year. We are looking forward to our new partnerships to continue our growth and success for the new year.