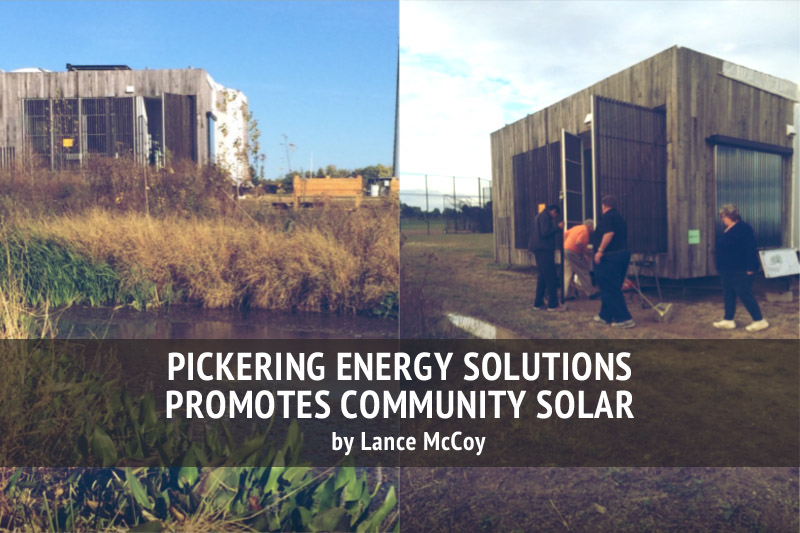 New Albany, Ohio (October 22, 2015) 
In the communities that we live and work, Pickering Energy Solutions (PES) has a stated mission to encourage, develop and facilitate the use of solar and other forms of renewable energy. We have worked with Marietta College, Marietta, Ohio, to provide a solar energy system (solar PV and solar thermal) for their Sustainability Demonstration Dormitory. The goal of the Dormitory program is to have the students become more aware of their energy consumption and to learn about efforts to conserve energy and live in a more sustainable manner. We supported the formation of the first solar energy club in West Virginia at Parkersburg High School, Parkersburg, WV. Founded in Sept 2013, the club is focused on building a solar PV system on campus. PES staff serve on the Community Advisory Board for the West Virginia University at Parkersburg, Solar Technology Program.
THE 2009 OSU SOLAR DECATHLON HOUSE TO BE INSTALLED AT NEW ALBANY HIGH SCHOOL
Now, PES joins enthusiastic students, teachers, parents, school district leadership and community volunteers in the effort to reassemble the 2009 The Ohio State University (OSU) Solar Decathlon House* on the campus of the New Albany High School, New Albany, Ohio. The 2009 OSU Solar House was first assembled on the Washington D.C. Mall and then moved to the Columbus Zoo before being gifted to New Albany High School. The community is not simply planning to display the house as an historical relic. All stages of the siting, re-construction and ongoing upkeep and development will be learning/teaching moments.
The ambitious goal of the current project is to first reassemble the solar house (now in three following transport) on the High School campus and then to develop S.T.E.M. curricula and courses in sustainable design, engineering and solar technologies. This learning/teaching aspect of the project has both depth and direction. The director of OSU's 2011 award winning Solar
Decathlon House received a community outreach grant this Spring to use both the 2009 and the 2011 house (on OSU's Columbus campus) as the primary demonstration sites and empirical learning vehicles for the new curricula. The building, when re-assembled will be renamed the Easton-OSU S.T.E.M. and Nature Center. It will sit at the east entrance of the school's 85 acre Nature Preserve.
PROMOTING LOCAL BUILDING TECHNOLOGIES RESEARCH AND ADOPTION
Goals of NREL's Solar Decathlon competition include demonstrating to the public the cost-saving opportunities provided by homes that use readily available clean-energy technologies to produce as much energy as they consume. Also, the competition promotes an integrated or "whole building design" approach to new construction. In this approach, the design team considers the interactions of all building components and systems to create a more comfortable building that both saves energy and reduces environmental impact.
Local students will be able to explore the 2009 OSU Solar House and learn about: the rooftop bifacial solar panels with adjustable racking; the solar hot water heating system designed for both personal use and also for the radiant floor system; staged heating and cooling methods to maximize efficiency in Ohio's climate; and the homes automation system that monitors energy consumption and feeds this information to the occupants.
PICKERING ENERGY STAFF PROVIDE DOCENT SERVICES FOR COMMUNITY OPEN HOUSE
The Solar New Albany project team, headed by Bill Resch, Project Manager and Sam Malik, Director of Marketing and Outreach recently had a successful Open House Fundraiser which turned into a community wide celebration of support for educational excellence. The event (9/30/15) was held at the future site of the Solar House with PES staff and other community volunteers providing tours and educational presentations to students, parents, teachers and an interested community. To learn more about Solar New Albany's Easton-OSU S.T.E.M. and Nature Center at New Albany Schools and how it will provide extraordinary opportunities to S.T.E.M. students all around central Ohio, log onto the newly launched website: www.solarnewalbany.org.
*The Solar Decathlon (http://www.solardecathlon.gov/index.html) is an international competition that challenges collegiate teams to design, build, and operate solar-powered houses that are cost-effective, energy-efficient, and attractive. The National Renewable Energy Laboratory (NREL) has provided technical expertise for this U.S. Department of Energy (DOE) event since 2002.