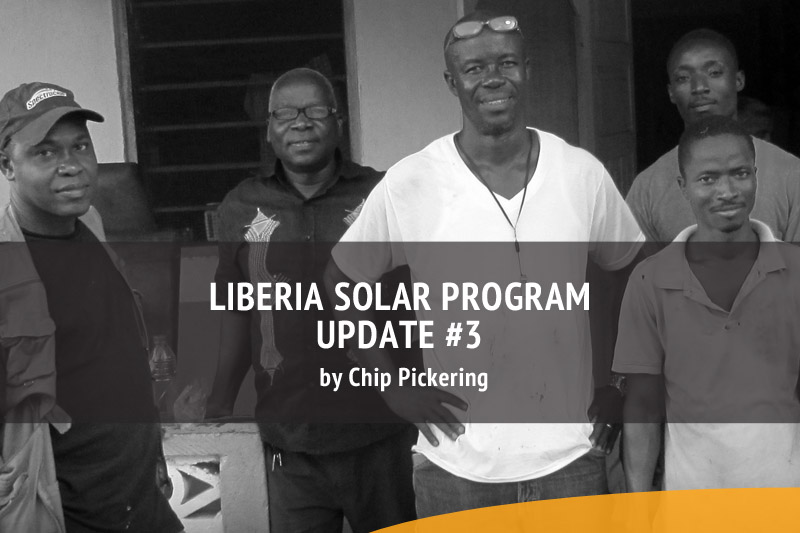 I am very pleased to be able to provide an update on the current status of our ongoing medical mission and humanitarian power program to Liberia. Our program purchases, installs and provides ongoing support for solar power systems for remote clinics, schools and orphanages in Liberia. These existing facilities are generally without power or, if they do have a generator, are very stretched to continue to provide fuel for the generator on an ongoing basis. The systems that we provide have an expected lifespan of 10+ years (with the exception of battery replacement between 4 and 5 years).
Thanks to the generosity of our partners we were able to purchase and transport the following systems in the spring and summer of 2015 for installation this fall:
Funded by Brother's Brother Foundation
11 Clinic systems for Bong County Health Team (Liberia Ministry of Health)
1 Expanded Clinic system for the AFBM Clinic (Steve Trexler, Gbarna)
3 Clinic expansions (additional panels and batteries to allow clinics to have 24 hour operations and/or water pumping)
3 System upgrades for older systems to move to 240V operations (new standard) and provide other spare parts
Funded by Trusted Angels
1 Expansion for the MODUC Orphanage (Buchanan) to allow for additional solar collection and battery storage.
1 New Orphanage (Children's Relief Ministries)
Funded by Pickering Energy Solutions through Trusted Angels
1 Respiratory Therapy classroom in Monrovia
These systems have been transported to Liberia through the support of Global Health Ministries and are currently onsite and in storage in the Maintenance Stores at Phebe Hospital in Bong County, Liberia.
Our installation team in Liberia is headed by Willie Voupawoe, who is the head of Phebe Hospital's electrical team and has been to the US and trained in medical technology through the participation of Brother's Brother Foundation. Willie heads a 5 person installation team and can construct the average installation for a clinic in a normal day if the building wiring is adequate.
To view the full report, download our PDF here.