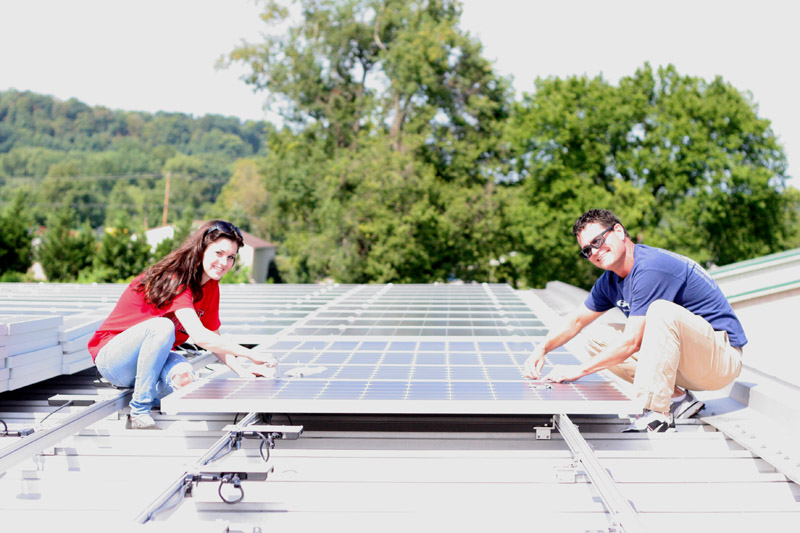 Parkersburg, WV (February 1, 2014)  When J. Conor McCoy returned from the American Legion Mountaineer Boys State he completed a course on leadership and community service.  The course culminated in a Service Learning Plan (SLP) paper.  Conor's paper was on starting a solar energy club.  When his Senior year started, he took his SLP a step further and the PHS Solar Energy club became a reality.  The club's objectives include engaging the community and the school in sustainable energy awareness.  The club's written Vision Statement includes installing a solar photovoltaic system on the school rooftop.
Under the support and supervision of Mary Wright (PHS Math Department Chair), members of the club have been involved in club meetings, (1) club T-shirt design, (2) rooftop solar PV installation, (3) a local Energy Efficiency Exposition and (3) the Miss PHS Talent Contest.  Anna McCoy, club member and club representative in the Miss PHS talent contest as "Miss Solar Energy Club" said she liked the club because she is learning about Solar and is hopeful the school will have its own renewable energy system.
About PES:
Established in 2012, Pickering Energy Solutions is a growth oriented company focused on making renewable energy systems a reality for residential and commercial building owners through direct sales or through a Power Purchase Agreement or Power Leasing arrangement.
About the Author:
Lance McCoy serves as Communications Director for Pickering Energy Solutions.  Lance is a green-minded entrepreneur and is a Certified Photovoltaic Site Assessor through MREA.